2020 WFLO Institute West Scholarship Recipients Announced 
January 21, 2020 (Arlington, Virginia) - The World Food Logistics Organization (WFLO) is pleased to announce David Stier, Operations Supervisor, Interstate Warehousing, and Michael Newman, Warehouse Manager, Summit Cold Storage, Inc. as the recipients of the WFLO Institute Scholarship for 2020. The announcement was made during the WFLO Institute West which was held January 12-15, 2020 at in Tempe, AZ. The scholarship program is sponsored by RefrigiWear, Groom Energy, and Alta Refrigeration.
Recipients are selected based on their performance, leadership skills, and dedication to the industry. "Providing education and training opportunities for promising cold storage industry executives is a top priority for WFLO," said Corey Rosenbusch, President & CEO of WFLO. "We know David and Michael are deserving candidates, and we thank our sponsors for making the scholarship possible."
Newman heads day-to-day operations at Summit Cold Storage; he focuses specifically on HAACP, SQF, and USDA inspections. As the Operations Supervisor at Interstate Cold Storage, Stier oversees case picking for one of the company's largest customers, ensuring goods are shipped to retail stores and distribution centers.
"It's an honor to be selected for the WFLO Institute Scholarship. I am really looking forward to this experience and hope to not only expand my knowledge of the industry, but forge lasting connections across the industry to better prepare all for the challenges that lie ahead," says Mike Newman. Stier adds, "I think it's great that WFLO's sponsors offer these scholarships. I'm honored to have been chosen and am looking to learn all I can about the cold chain industry from its leaders."
As the recipients of this scholarship, Stier and Newman were recognized during the opening general session of the WFLO Institute.
More information on the WFLO Institute can be found at www.gcca.org/institute .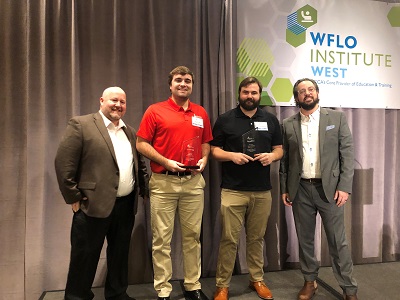 L to R: Eric Steele, Groom Energy (Sponsor); David Stier, Interstate Warehousing; Michael Newman; Summit Cold Storage; Ryan Silberman, RefrigiWear (Sponsor)
About the Global Cold Chain Alliance
Comprised of its Core Partners, including the International Association of Refrigerated Warehouses (IARW), the World Food Logistics Organization (WFLO), the International Refrigerated Transportation Association (IRTA), and the Controlled Environment Building Association (CEBA), the Global Cold Chain Alliance (GCCA) represents all major industries engaged in temperature-controlled logistics. GCCA unites all partners to be innovative leaders in the temperature-controlled products industry.