Cold Connection
GCCA Staff, Consultants Travel to Southeast Asia for International Development Projects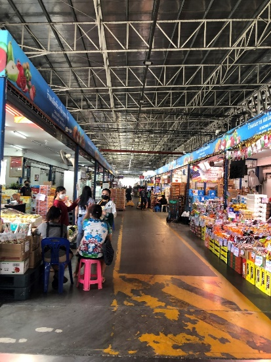 In March 2022, Madison Jaco, Manager of International Projects, traveled to Cambodia and Thailand to support two ongoing international projects in the countries.
The first is a privately funded construction project at the LM-17 terminal in Phnom Penh. The World Food Logistics Organization has been advising on the feasibility, tender documentation and launch, and now construction of a cross-docking and cold storage facility since 2019. On March 22, Madison attended the groundbreaking ceremony in the Kien Svay district, 40 km south of Phnom Penh. The ceremony was attended by the Australian, UK, Swiss, Dutch, and Singapore ambassadors to Cambodia, as well as the Cambodian Minister of Public Works and Transport. WFLO will maintain involvement with the facility through construction and training over the next year.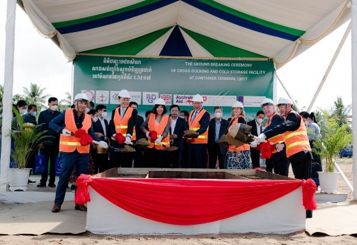 The second project is a U.S. Department of Agriculture Emerging Markets Program in Cambodia, Thailand, and Vietnam. In 2019 and 2020, two groups of GCCA staff members and consultants traveled to Cambodia and Vietnam to assess the cold chain through various key informant interviews and site visits. The project was then paused due to the pandemic, but as the world begins to open again, WFLO took advantage of the opportunity to have follow up meetings with stakeholders in Cambodia and make new connections in Thailand. Madison was joined by Kent Sisson (GCCA consultant) and Manuel Cabrera-Kabana (Chairman, IARW) in Thailand, where the team traveled to various cold storage warehouses, logistics providers, wholesale markets, and importers of US products in and around Bangkok and the Laem Chabang port.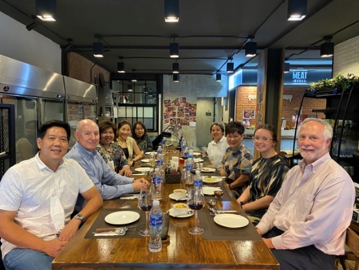 Following the Emerging Markets Program cold chain assessments, a series of educational and networking events and opportunities will be hosted in the Southeast Asia region.
For more information about this and other WFLO International Projects, please reach out to Madison Jaco, mjaco@gcca.org .