Member Connection
GridBeyond Releases Free Tool to Calculate Value of Energy Flexibility
GridBeyond , the leader in intelligent energy technology, have released a free online tool – the Energy Opportunity Calculator . The tool is designed to enable industrial and commercial businesses to learn how much money they could earn and save through demand response and energy optimization services.
The Energy Opportunity Calculator draws on GridBeyond's extensive experience in the energy markets and engineering knowledge of site assets and inherent flexibility. Energy users simply enter three pieces of information: location, industry and electricity consumption (in MW, kWh, MWh or electricity spend), and the output is the financial benefits their site could gain access to.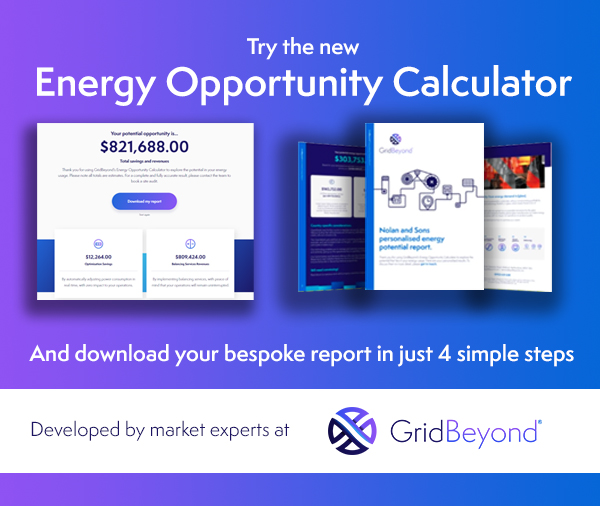 The result is split into two sections, revenues and savings, and uses the typical percentage of flexibility for the user's industry, the typical services and programs available to that industry, and the values of those programs to generate the results. The revenues are based upon demand response and other network opportunities, while the savings are based upon typical energy efficiencies, trading and price optimization opportunities, as well as the operational efficiencies that can be attained. The user can then download a bespoke, personalized report containing further detail on their results, with additional information on the services they can participate in, the assets typically found in their industry, and an overview of their market.
Michael Phelan, CEO & Co-Founder of GridBeyond, commented:
"In our mission to simplify the complex energy market, the Energy Opportunity Calculator provides industrial and commercial businesses the possibility to understand their potential earnings and savings without undertaking a full audit.
"We found that, from an end user's perspective, the visibility of a site's value in the energy markets is often clouded. Service providers talk extensively about value per MW, but don't necessarily have the knowledge of application to ascertain the amount of flexibility actually available within particular industries and the breadth of services both within and outside of demand response.
"This tool does not negate the need for a full audit by any stretch. We understand there are nuances and differences from site to site, however we also understand the value to our prospective clients in learning what they could earn and save. It's a tool to start conversations within businesses based on our own benchmarking from years of working within energy management and demand response for industrial and commercial sites."
Wayne Muncaster, VP of North America at GridBeyond, added:
"All industries across the US have been affected by Covid-19, whether that's through loss of production, cost of increased safety measures, loss of sales, or otherwise.
"Energy flexibility is an often-overlooked source of revenue and savings which can help businesses to strengthen their financial position at such challenging times. I'm delighted to share this tool with our prospective clients, it will enable energy users to truly understand the scale of the opportunities we're talking about.
"Within the ever-changing electricity markets, whilst we can't guarantee market values, we can guarantee that our clients are in the best position to benefit from the most lucrative programs for their operational capability. This new tool demonstrates the best case scenario for numerous types of operations, which is what I believe many industrial and commercial businesses are looking for."
The GridBeyond Energy Opportunity Calculator is free for all to use . 
About GridBeyond
Transform energy into opportunity. GridBeyond is a global leader in intelligent energy technology for industrial, commercial, institutional and utility partners. Energy users are provided the ability to manage and control demand response participation, energy performance, markets and costs via the multi-award-winning AI Point platform.
By stacking various market opportunities and programmes, GridBeyond delivers demand response revenues, enhanced savings, strengthened operations and sustainability to over 400 I&C sites worldwide, including some of the planet's best-loved brands. Furthermore, networks and utilities are empowered to optimise electricity supply and provide value-add opportunities to their customers.
By connecting grid operators, operational load, distributed generation, storage, EV charging and utilities to integrated energy services, GridBeyond's vision is to build a shared energy economy that delivers sustainability, resilience, affordability and adaptability through collaboration and innovation.
GridBeyond was founded in 2007 and is home to the world's first hybrid battery and demand network. A powerful combination of technological excellence, consultative approach and unrivalled expertise means that GridBeyond partners and clients have future-proof access to energy services.