Largest Agricultural Organization in Mexico and GCCA Sign Partnership Agreement
Mexico City, 5 November 2019.  The Global Cold Chain Alliance (GCCA) and the National Agricultural Council of Mexico signed signed an agreement solidifying a joint commitment to strengthen the cold chain in Mexico and grow the industry by optimizing each supply chain link in the agricultural sector.  
The work of both organizations focuses on the growth and optimization of the supply chain in the perishable goods industry. To achieve this goal, the areas to be developed are infrastructure and equipment, a business model for management in the production chain, innovation, circularity and cold chain management.
The cold chain is a key hub for Mexico's agrologistic development; both organizations believe it essential to work on training programs that increase production, reduce waste, costs and delivery times of the product.
The GCCA and CNA alliance represents an important step in helping Mexico develop as a Global Agrologistics platform that allows them to increase exports, attract investment, generate employment and facilitate the commercialization of products.
The agreement was signed during the Latin American Cold Chain Congress held in Mexico City by Jorge Narváez Narváez, Vice President of Agrologistics of the National Agricultural Council (CAN),  Mauricio Barrera de Basal Iresa, board member of the IARW - International Association of Refrigerated Warehouses and Lowell Randel, Director of Regulatory Affairs and Government of the GCCA.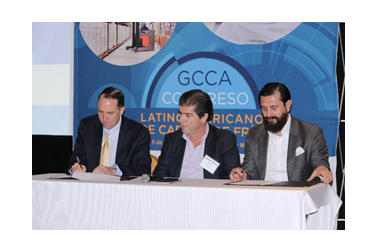 From left to right: Lowell Randel, GCCA; Mauricio Basal, Basal-Iresto; Jorge Narváez Narváez, CNA