Primus Builders, Inc. Wins 2017 IACSC Built by the Best Award
Alexandria, VA, November 28, 2017 – Primus Builders, Inc. was named the winner of the 2017 International Association for Cold Storage Construction (IACSC) Built by the Best Award for a project they completed for Lineage Logistics. The award was given on November 3, 2017 during a general session at the 37th IACSC Conference & Expo following a presentation on the project by Primus and Lineage representatives.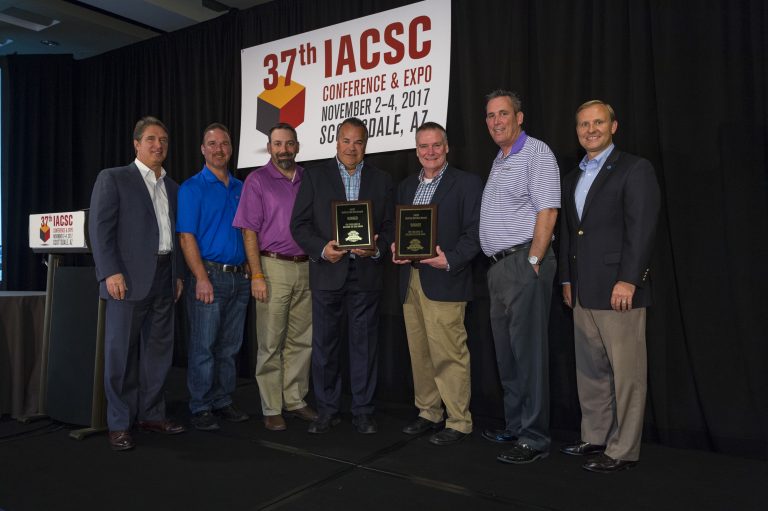 Former IACSC Chairman Brian King presents the 2017 IACSC Built by the Best Award to the Primus Builders, Inc. team. (Pictured left to right: Brian King [A M King], Eric Boyer [Primus Builders, Inc.], Jay Navarro [Primus Builders, Inc.], Michael Jones [Primus Builders, Inc.], Jim Romine [Lineage Logistics], Mark O'Connell [Primus Builders, Inc.], and Corey Rosenbusch [IACSC-GCCA]
The IACSC Built by the Best Award was created in 2016 to recognize members of IACSC, a Core Partner of the Global Cold Chain Alliance (GCCA), as the world's leading experts in building temperature-controlled facilities of all types. Construction companies submitting projects to compete for the award must be IACSC members and be available to present alongside their customer at the annual IACSC Conference & Expo.
The 2017 winning project was one that Lineage Logistics contracted with Primus Builders, Inc. on an 180,000 square foot greenfield cold storage distribution center in North Charleston, SC. The LEED Silver-certified facility serves as a regional import/export hub for protein products destined for domestic and international markets. It features the newest high-capacity blast freezing technology and offers road and rail access (via a Norfolk Southern rail line) as well as immediate ship access to the Port of Charleston.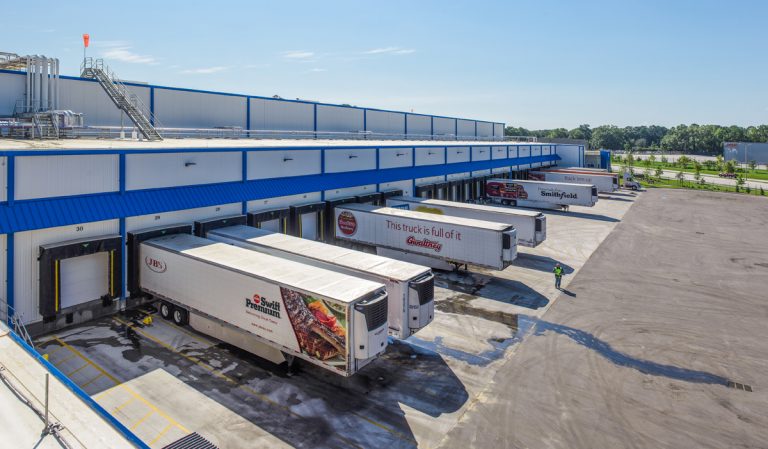 Exterior dock of the Lineage Logistics facility in North Charleston, South Carolina, built by Primus Builders, Inc
"We are honored to win this award, especially since we were up against some other incredible projects," said Michael Jones, President of Primus Design Services, LLC. "All of the credit goes to the entire Primus team, who forged onward through two major hurricanes and multiple construction challenges to complete a facility that will help Lineage grow their protein import/export business."
The project faced significant challenges including two hurricanes that dropped more than two feet of rain on the site.
Eleven additional IACSC members participated on the 2017 winning Primus Builders Inc. project, including:
Fastener Systems, Inc.
Global Insulated Doors
Groom Energy Solutions
Kingspan Insulated Panels
Metl-Span
Republic Refrigeration
Rytec High Performance Doors
Shadco Column Bearing Blocks
SimplexGrinnell
Tippmann Construction, Inc.
Wiginton Fire Systems
This is the second time a Lineage Logistics facility has been recognized as the focus of a project submitted to the IACSC Built by the Best Award. In 2016, their facility with Titan Frozen Fruit received top honors following a build by Fisher Construction Group.
Top IACSC Built by the Best Award 2017 Finalist, Tippmann Innovation, also presented at the 37th IACSC Conference & Expo, for their project with Merchandise Warehouse. The 100,000 square foot convertible operation allows for a variety of clients and a wide range of temperatures, and is home to a number of Tippmann Innovation's latest design and technologies under one roof. From adapting heat and smoke vents to the cold storage environment to automation features, such as deep lane, pallet moles, this team embraced their expertise to deliver a top-quality result.
Honorable mention goes to the following three companies for their projects that were also in the running for the award:
Burch Corporation for their project which added 65,000 square feet of warehouse and loading dock area to a South Georgian Pecan Company's facility.
Clayco for their project with Schnuck Markets, Inc., which resulted in a multi-faceted distribution center for a Schnuck's location in North St. Louis County.
Fisher Construction Group for their project of a 340,269 square foot potato processing facility in Boardman, Oregon for Lamb Weston. Fisher Construction Group was awarded the inaugural IACSC Built by the Best award in 2016 for another project. T
he submission process for the 2018 IACSC Built by the Best Award will open in the spring of 2018. Members of the IACSC Business Development & Marketing Committee are currently working to refine details of the award to improve the process for all candidates. More information can be found here .