RWTA Recognizes Young Leader in the Australian Cold Chain Industry
For Immediate Release — 22 November 2017 (Sydney, Australia) – The Refrigerated Warehouse & Transport Association of Australia (RWTA) is proud to announce Mathew Reiffel, Operations Manager, Americold Logistics, as the recipient of the 2017 Frank Vale Award. The Award was presented to Reiffel by RWTA Immediate Past Chairman, David O'Brien and Shannon Porter, CEO Retracom Contracting (award sponsor) during the Global Cold Chain Summit conducted by RWTA and the Global Cold Chain Alliance (GCCA) in Sydney (October 2017).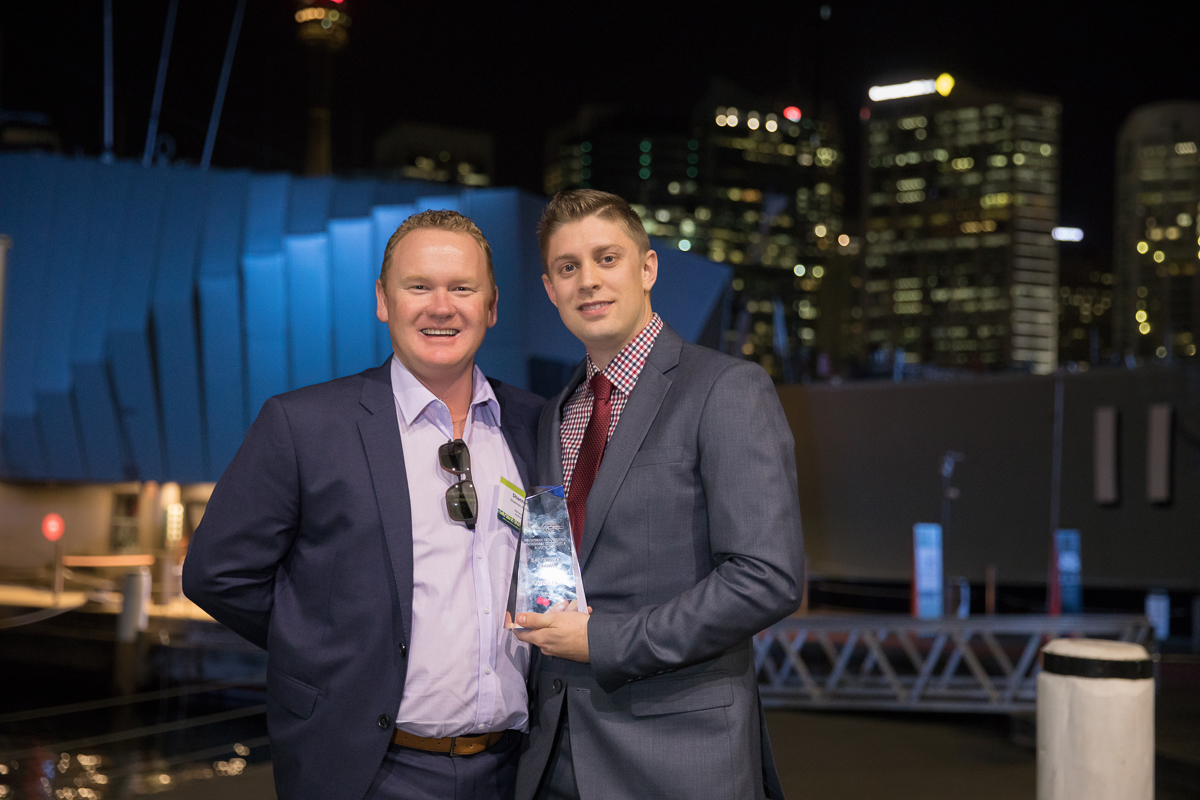 (Left to right): Shannon Porter, CEO, Retracom Contracting and 2017 Frank Vale Award recipient Mathew Reiffel, Operations Manager, Americold Logistics
"RWTA is committed to recognizing the next generation of leaders through the Frank Vale Award program and every year, the emerging leaders within the Australian Cold Chain never cease to impress me," O'Brien stated. "Mathew is respected as a leader among his peers and is an example of the bright future our industry holds."
Bestowed by RWTA annually, the Frank Vale Award, acknowledges talented young people within the industry who have demonstrated to their employers that they have the potential to become future leaders, and make a positive contribution to the development of the Australian Cold Chain Industry. The award is named in honor of Frank Walter Blake Vale, born in October 1908 and best known as a pioneer of the Australian Cold Storage Industry as well as the Victorian Dairy Industry.
Reiffel competed alongside two of his fellow future leader nominees. Those nominees included Ashlee Arnall, Customer Engagement Manager, Swire Cold Storage, Pty Ltd (NSW) and Lars Clement, Infrastructure Manager, ANZ (Technology Solutions Group), Americold (QLD). Judges for this year's Frank Vale Award competition were Bill Andary, Managing Director, Auscold Logistics, South Australia; Nick Pedneault, President, Congebec Logistics, Canada; Gabor Hilton, Engineering Manager, Oxford Logistics, Victoria (and RWTA Life Member).
"Being able to attend the RWTA/GCCA Summit in Sydney and compete with my peers for the Frank Vale Award was a fantastic experience and something that I will value throughout my career," stated Reiffel. "I'd like to again thank Retracom for their ongoing support of the Frank Vale Award and their support for the young up and coming leaders in our industry. Their continued backing of this award allows us young future leaders to experience an environment that many of us may have thought was not possible."
Retracom generously sponsored a travel stipend for the award winner. The funds will enable Reiffel to attend the 2018 Global Cold Chain Expo, 25-27 June in Chicago. During the Global Cold Chain Expo, Reiffel will compete with other young leaders from around the world as they vie for the GCCA NextGen Award, which seeks to recognize and reward future leaders in the temperature controlled logistics industry globally. Reiffel will compete onstage alongside the young leader award winners from North America, Latin America, Europe and South Africa.
Read more about the Frank Vale Award here – http://www.rwta.com.au/frank-vale-award/ . To view photos from the Summit go to the GCCA Summit post event website – http://www.gcca.org/blog/gallery/global-cold-chain-summit/